O1LT.COM "HOT AND BLACK" QUICK NEWS RECAP-BRANDY TO REPLACE STAR?
I've had this story for a week now but I did so much reporting on it last week I decided to wait a minute before posting it. Brandy Norwood is auditioning to take Star Jones Reynolds place on "The View". She will audition Wednesday July 5th and will return on Friday, July 7th. The former Moesha/and Teen Pop sensation is enjoying a career resurgence via "America's Got Talent" a reality show created by "American Idol" judge Simon Cowell that searches for the next big star across multiple genres. Brandy recently told People magazine "America's Got Talent' has really opened a lot of doors for me. I want to do more TV" In related news Star Jones has posted the business address of Disney CEO Robert Iger on her WEBSITE. She urges her fans to send their complaints to the address. We love you Star, (O.K. that's a stretch), we all agree you were done wrong, but c'mon nobody has time to be writing people on your behalf. I've already decided I'm not watching the show anymore what more do you want? Pick yourself up and just keep it moving. Let this be a lesson to you and everyone else; ALWAYS HAVE A PLAN "B"!!

Jill Scott is pleading for a boycott of songs that are degrading black women in lyrics and videos. She recently spok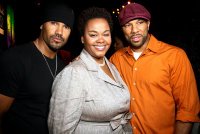 e at a seminar-"Who You Calling A Ho?" Jill urged the audience to stop supporting albums that offensively disrespect black women. Scott says " It's dirty, inappropriate, inadequate, unhealthy, and polluted. "We can demand more. Challenge the music industry with your purchasing power". O1LT: Here's the thing, though I agree with Jill that some music (lyrics/videos) isn't helping the image of black women, or women period. Black woman don't help the situation by allowing themselves to be portrayed disrespectfully in music videos. It also doesn't help when I go out to a club and see woman gyrating and grinding their hips to the songs they deem disrespectful. I look at it like this: "If they can dance to it and allow me to grind with them to it, then it can't be all that disrespectful." Black women need to respect themselves FIRST and then demand it from others. The songs that Jill and Oprah say degrade women are the same songs that are atop of the Billboard charts. The popularity and sales of disrespectful music isn't limited to men. Other woman support and perpetuate the disrespect (Trina, Khia, No Strings, even Lil Kim). It's a lot deeper then they realize.

I'm not a hater I give credit where credit is due, but Nick Cannon needs to sit the hell down somewhere. I don't know who's….. Let me stop I don't need a lawsuit. Anyway Nick is looking for a new video vixen for his new single "My Wife". He claims that he is tired of seeing the same girls in every video. So he is on a national search looking for the total package. Ladies put your lip gloss on and get out there. Good Luck! In related news: Nick Cannon has a sex tape out. He told a magazine (the name escapes me) that he made a few tapes back when he was younger and that he hasn't been able to locate them.


Congratulations to India Arie! Her new CD "Testimony.Vol 1, Life & Relationships" enters the billboard charts at number one selling 161,000 copies. This makes India's first number album, while her last CD "Voyage to India" debuted at No. 6 with 109,000 copies. Nelly Furtado's "Loose" drops 1-3, while Rihanna's "A Girl Like Me" moves up from 12-5, and D.T.P.'s rapper Shawnna debuts at No.13 with her album "Block Music". FULL STORY HERE
Contributing information from Panache Report/EurWeb